Lift tables can work wonders for loading docks, material handling facilities, and other operations across a wide range of industries and potential usages. Of course, not all scissor lift tables are created equal. If you plan to invest such a lift to ease your loading and offloading work, what should you look for, and what really makes a heavy duty lift table you can trust to perform?
When you think about a heavy duty lift table, the first factor that likely comes to mind is how much of a load or capacity it can handle. With capacities of up to 20 tons, the hydraulic lift tables from MORN are more than sturdy enough to meet any need and tackle any job.
It's also important to have a machine that can work with your facility and other equipment or gear. That's why we produce vertical lift ranges in a variety of customized specifications. Platform sizes and lifting height are made to your requests, to handle loads of all shapes and sizes. We have a custom fabrication team, with an experienced engineering team that can create custom lift tables for any need in any plant or material handling situation.
Hydraulic lift tables should certainly be easy to operate. That's why hand-held push buttons and foot pedals are both available, and 220v, 240v, 380v, or 415v AC power, three-phase, powerful motors provide rugged durability and dependability.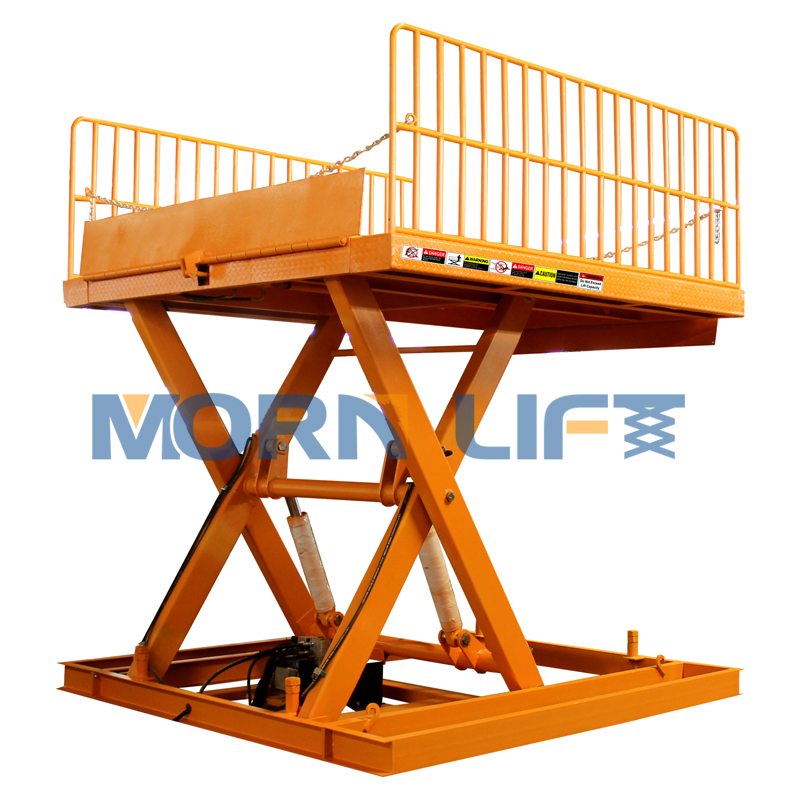 Safety features are also key when dealing with heavy loads, machinery and equipment of all kinds. From safety trip bars and side rails to accordion skirts, toe guards and more, our scissor lift tables are designed to entirely minimize safety concerns and the risk of injuries.
Special lift table platform options from MORN include ergonomic and tilt tables, low-entry tables and double-long tables as well, always ensuring you have the right gear to match your needs.
Watch our lift tables in action, there is a reason they are the best!

With high quality, heavy duty hydraulic lift tables, you'll receive a range of benefits. You'll be able to reduce physical strain and injury for your employees, while also increasing their output and productivity, and improving all-around safety conditions. Your operation will become more efficient, effective and capable, and you'll be able to get more done in less time.
Scissor lift tables can provide you with many advantages, just be sure to make the right choice when you're ready to make a purchase. For heavy duty functionality and all of the features you've been seeking, MORN hydraulic lift tables will exceed your expectations.