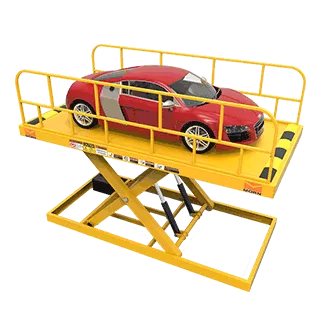 Move cars between split levels within showrooms or garages on different levels.
Improve the utilization rate of your space
MORNLIFT scissor car lift is a car mezzanine lift that engineered to transport cars between low-level floors. Built with a robust construction to support strong loads, they are highly safe, simple and convenient installation and maintenance. Scissor car lift is an economical and practical ideal vehicle transportation equipment for automobile 4S stores, car showrooms, garages, etc.
SCISSOR CAR LIFT FOR SALE
Model
Load Capacity
Platform Size
Travel Height
Min.Height
Power
SSL3-3
3000kg
5000x2500mm
3000mm
650mm
5.5KW
SSL3-4
3000kg
5000x2500mm
4000mm
800mm
5.5KW
SSL3-6
3000kg
5000x2500mm
6000mm
800mm
7.5KW
SSL5-3
5000kg
6500x2600mm
3000mm
680mm
7.5KW
SSL5-4
5000kg
6500x2600mm
4000mm
680mm
7.5KW
Car Lift Platform is customizable in loading capacity, platform size and travel height.
Save space : the scissor automotive lift consumes no space when not in use, it's an ideal option for small work spaces as well as large.
Safe: explosion-proof lock valve to avoid a sudden drop if emergency occurs.
MULTIPLE SAFETY FEATURES PACKED
The lift is fitted with protective side barriers to secure the car during elevation and descent.
Each car lift comes equipped with handrails, a kick plate, and a barrier chain across each end.
The platform is equipped with overload alarm and partial load protection device to ensure the safe lifting of the platform
The hydraulic system is equipped with an explosion-proof valve to prevent the platform from falling due to rupture of the oil cylinder
Manual lowering device after power failure
Scissor arms are made of high-strength manganese steel: high strength, no deformation, to ensure long-term safety
HIGH GRADE PARTS ENSURE HIGH QUALITY OF CAR SCISSOR LIFT
We manufacture our SCISSOR CAR LIFT with durability in mind. All the parts we use are standard model first-class quality and well-known brands. Each is with item code, which means you can easily find same parts to replace it. Delivery is also fast.