HIGH-EFFICIENT
MOBILE LOADING PLATFORM
If you have no dedicated loading bays,
it can create a safe work environment at the rear of vehicle
Designed specifically for safely & efficiently loading & unloading goods to & from lorries, shipping containers or mezzanines.
Easily movable by one person. The platform can be mobile on wheels with its light self weight.
Manufactured from mild steel. Strong and sturdy base frame.
High safety with chains to secure openings when not in use and flaps to bridge the gap to the vehicle.
Smaller storage space as both the front and end ramps can be folded up when not in use.
Minimized service cost with no hydraulics to maintain.
Ideal for emptying trucks or containers of non-palletised goods: move the goods onto pallets on the platform and then use a forklift to collect the pallet.
MORN LIFT Mobile Loading Platform is a flexible equipment designed for loading and offloading goods or pallets from vehicles in places where no dedicated loading bays are deployed. Its liftable platform can be suitable for different heights of vehicle bodies. With a safe working load of 3000kg (or more if required) the size of the platform can be designed to suit your requirements. For more details, please check the models and parameters below.
Models
MLLP2
MLLP3
MLLP3S
Platform size
1600*2600mm
1600*2000mm
1600*2000mm
Lifting height
1.7m
1.7m
1.7m
Load capacity
2000kg
3000kg
3000kg
Dimension
2250*2260*2450mm
2330*2930*2550mm
2330*2330*2550mm
Self-weight
750kg
1100kg-1300kg
880kg
Limit switch
CHNT
CHNT
Delixi with remote control
Chain
16A
16A
Guide
5.5mm C steel
100H steel * 4pcs
100H steel * 4pcs
Platform
3mm diamond plate
Outer frame main support
120*60mm rectangular tube & 50*100mm rectangular tube
Tongue/tail board
6mm diamond plate
Main support
80*40mm rectangular tube
Cylinder
63φ*2 pcs
Pump station
3KW/380V
MAIN PARTS OF MOBILE LOADING PLATFORM
Remote Control
Remote Control offers a handy operation for the worker to handle goods on the platform. One person can finish loading work easily with it.
Supporting Legs
Supporting legs must firmly stand on the ground before work to keep safety and stability. Rotate the rod manually and the legs will stand  on the ground.
Electric Control Box
Electric Control Box controls the main switch of the platform. Dustproof and waterproof shell prolongs the service life of equipment.
Chain and Roller
Chain and Roller moves tacitly to ensure the smooth running of hydraulic cylinder system. They work together to help the platform lift up or lower down.
Hook
The traction chains on both sides must be hooked on the rings of beams to stabilize the ramp. The sturdy hooks double the safety of both workers and goods.
Hydraulic Cylinder
Well-knitHydraulic Cylinder system gives smooth and powerful energy for the lifting & lowering process of the platform. Less maintenance to save your cost.
Bolts
All the bolts can be dismountable for easy maintenance and reinstallation. But frequent reinstallation is not recommended to keep a longer service life.
Auxiliary Wheels
When platform is lifting or lowering, the Wheels will also move around, to guarantee the ramp to be folded or unfolded safely. They can suit different heights of truck bodies.
Load capacity: 6T/8T/10T/12T/15T
Towable, easy to move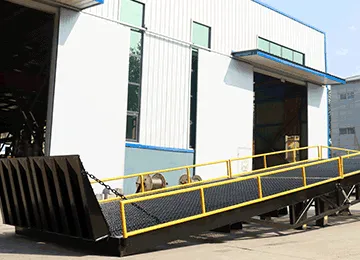 Load capacity: 6T/8T/10T
Easy to store, save space 
Platform dimension: Customizable
Load capacity:customizable
Power: electric
Request a Quote or More Information