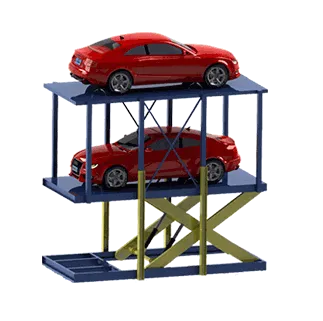 Double Deck
Scissor Car Lift
Fast and easy way to park or pick up the car from underground garage of your villa
DOUBLE DECK SCISSOR CAR LIFT
Fast,humanized design, and safe performance
MORNLIFT builds car lifts with passion in full harmony with the most modern architectural and urban environmental requirements. Double deck scissor lift is an ideal car lift solution for fast and easy access underground garage of your villa. Installed to replace an access ramp on private property, MORN LIFT double deck scissor car lifts are specially engineered for day to day residential application as a solution for maximizing available space, storing automobiles, and providing security for exclusive and/or seasonal vehicles. It's also perfect for commercial parking operations looking to maximize their overall vehicle capacity. Optional color can be easily in harmony with surrounding environment.
DOUBLE DECK SCISSOR CAR LIFT FOR SALE
Characteristics
Standard
Option
Lower platform load
3000kg
2000kg / 2500kg / other
Upper platform load
3000kg Static (Dynamicmovement available upon request)
2000kg / 2500kg / other
Dimensions available for lower platform
2800 x 5800 mm
2700/3100 x 5000/6000 / other
Dimensions available for upper platform
3000 x 6000 mm
2900/3300 x 5200/6200 / other
Available height
2000 - 3400mm
According to your height
Double Deck Scissor Car Lift is customizable in loading capacity, platform size and travel height.
MULTIPLE SAFETY FEATURES PACKED
One lift for two-car parking, maximize your utilization rate of your garage;
Quick and easy to pick up the car from the underground garage;
Far-end control and multi-control points at the different floors could be realized;
Great load capacity, safe and reliable.
Request a Quote or More Information