Technical Service & Support
​​Pre-Sales Service & Support During
Production & After-Sales Service
Service
Pre-Sales Service
Our team of customer advisors is there to offer recommendations on and consultation about our machinery before you make your order.
For customers who require modifications to their equipment and machinery, our expert engineers are on hand and will provide detailed blueprints of your bespoke machines.
Support During Production
We are sticklers for quality control and assurance. Every single step of our machinery's production is closely monitored, and absolutely no defected models are allowed to go to market.
After you have made your order and your machines have been produced, they are thoroughly tested. Photos and sometimes videos are taken and then sent to you for confirmation before the products are shipped.
We can pre-install some of the goods lift models that require on-site installation. This pre-installation ensures that machinery parts will perfectly fit the location for which they are destined.
After-Sales Service
Once your product has arrived, our After-Sales Department will contact you for followup service.
If you have ordered a custom model with us, we will send you detailed drawings of the machine along with assembly and installation manuals to ensure setup is as smooth as possible. Our customers love these clear instructions; just follow the steps within the manual and our attached drawings to assemble and install the machines by yourself.
If you have any questions about operating our lift, pls send email to us, we will reply to you within 2 hours
once received.
If anything urgent, pls call us directly by +86-531-55572830, we will be here 8:00-19:00(Beijing time).
Installation
What specialized knowledge are required to install the vertical hydraulic cargo lift?
Hydraulic vertical cargo lift moves materials in factories, warehouses, industrial plants, institutions — anywhere that products or supplies need to be moved from one level to another place. Providing fast, efficient, convenient and safe access to mezzanines, balconies, basements, and any levels in multistoried building. It can be installed indoor and outdoor. This article mainly tells whether installing cargo lift need professional knowledge.
Vertical hydraulic cargo lift is our company's most advantageous and popular product. And our cargo lifts have been exported more than 30 countries. And recent years, we have more and more very nice customers from the Middle East, especially in Saudi Arabia. Generally, most of customers often ask us what specialized knowledge is required to install the lift? Our answer is that no need any specialized knowledge, but you have to do preparatory work.
1. Main parts of freight elevators are assembled before shipment. You just need to fix the guide rail, easy and simple.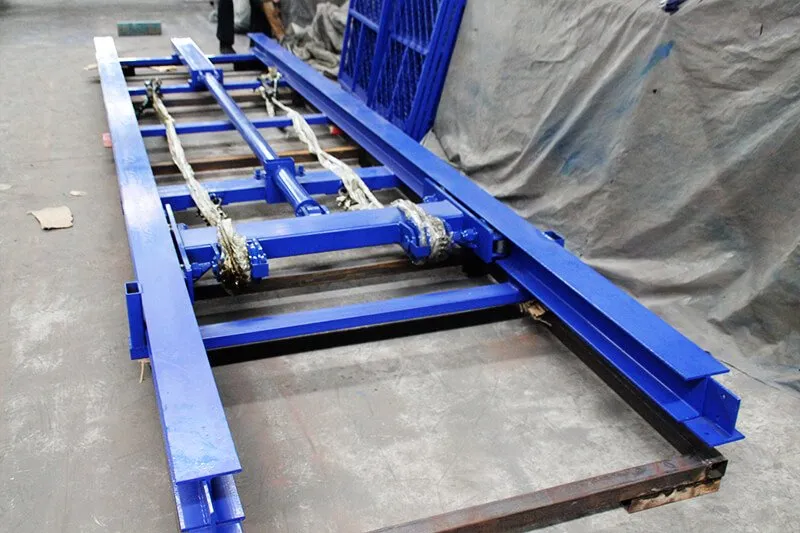 2. When delivering, we will provide detailed English install instruction (30 pages, including installation photos, installation procedures step by step, installation videos, etc.) for you.
3. If you want to save time and energy, we can also send a technician to your country for guiding installation. However you need to pay some extra charge, like the technician's wages of USD260 per day, and fees of food, hotel, and all tickets.
4. Before installation, you need to prepare some tools that will be utilized to assist the installation. Here is a tools list for your reference.
| | | |
| --- | --- | --- |
| Serial number | Tools Name | Quantity/unit |
| 1 | Electric welding machine | 1 |
| 2 | Welding rod | 2 |
| 3 | Mask | 1 |
| 4 | Polishing disc | 1 |
| 5 | Biggest Cutting disk(same as below picture) | 1 |
| 6 | Crowbar | 1 |
| 7 | Manually hoist(5tons Capacity) | 1 |
| 8 | Hammer drill with drill diameter | 1 |
| 9 | Big cutting machine or Oxygen cutting bottle | 1 |
| 10 | Monkey spanner | 1 |
| 11 | Screw driver | 1 |
| 12 | Plier | 1 |
| 13 | Insulating tape | 1 |
| 14 | Crane() | 1 |
Then let's look at some of the major tools below.
1. A big cutting machine
2.Electric Welding Machine
The only requirement is that the welding electrode type and its electricity to be greater than 200W, no more requirements.
3. Polishing Disc
Below picture shows an example of the polishing disc, and there is no more requirements.
4. Insulating Tape
It is OK to be normal insulating tape.
Here are some photos of our installing process to help the Saudi customers install the cargo lift.
In one word, as long as you choose us, the installation and after sales service won't trouble you. We will try our best to provide service and support for every customer.
Warranty
MORN provide 5-year warranty for main structure and 1 year to electrical parts. We will send you parts for free if there are any non-human factors problem during warranty time
Detailed installation instruction, installation videos, operation manual and operation videos available. Engineers also available for install/maintain oversea. 7*24H technical support by email, telephone or other communication online.
Payment
Regarding the payment terms, T/T, LC, Western Union and Paypal are all acceptable, convenient and efficient.
Delivery
Generally speaking, our delivery time for one unit goods lift need 25 days, 2 units need 30 days, 3~10 units need about 40 days. For some standard models goods lift, we have quite quantity in stock, which could be delivered immediately.
MORN founded its own logistics team since the year 2010. This logistics team consist of 27 trucks and 63 employees. It is mainly for guaranteeing the safety and fast delivery from MORN factory to the installation site or to the departure port. It also improve work efficiency and service quality.