MORN LIFT scissor lifts deliver long-lasting performance for a more productive day. This type of aerial work platform lift is ideal for indoor maintenance or outdoor construction tasks. Electric scissor lifts have longer runtimes and promote quieter working environments. We also have mobile scissor lifts, tracked scissor lifts, steering scissor lifts, small scissor lifts, and diesel scissor lifts for a wide range of work environments and heights. Just tell us your desired working heights and power type, and then we can recommend an affordable and reliable scissor lift platform for you.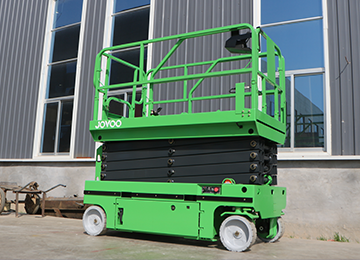 Working height: 8.2m, 10m, 11.9m, 13.8m, 16m
Drive mode:  Battery
Driving speed: 3.4km/h
Able to move under working conditions
Working height: 6.5m, 8m, 10m, 14m
Drive mode: Battery
Better for rough and muddy road applications
Working height: 9m, 11m,13m,14m, 15m, 16m, 18m
Load capacity: 500kg/400kg
Power supply: AC/DC, or dual Power
Electric lifting and manual driving, low cost
Video Display of Scissor Lifts
Application of scissor lift
MORNLIFT scissor lifts are special equipment for aerial work with a wide range of application. They are ideal for indoor and outdoor maintenance, cleaning, installation and construction project.
Electric and engine powered scissor lifts, powered by battery or diesel, can move under working conditions and complete up and down, forward, backward, steering and other tasks on the operating platform after it is raised.
While mobile scissor lifts (manual pulling) are economical options and can be moved by manpower or DC power.
The small scissor lift is compact, easy to move. It can even enter the elevator, so it is an ideal choice for indoor operations.
Request a Quote or More Information