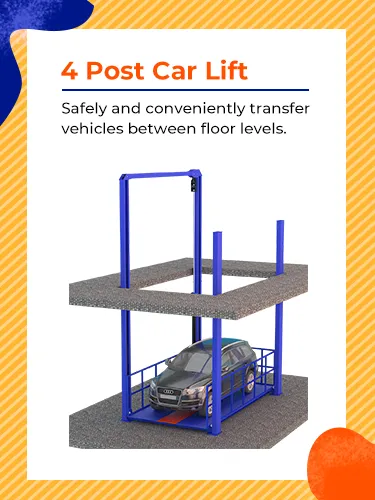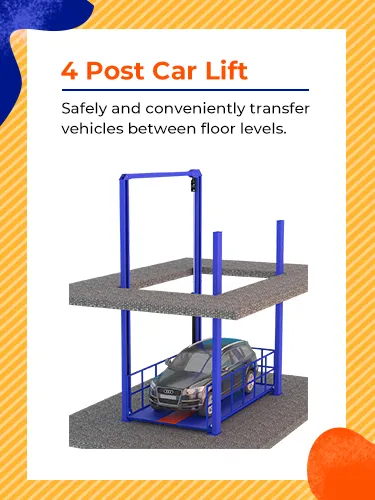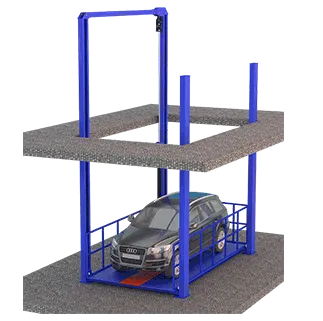 Safely and conveniently transfer
vehicles between floor levels.
Safely and conveniently transfer vehicles between floor levels.
MORNLIFT 4 post car lift, also referred to car elevator, is a guide rail type hydraulic lifting platform for vertical transportation of automobiles and commercial vehicles. It transfers cars up and down between floors at multi-storey building parking lots, car storage facilities, large-tonnage automobile repair and maintenance facilities, private garages, auto dealerships, auto 4S stores, workshops, etc. This kind of four post car lifts stand out with large loads, high safety performance, stable lifting and simple operation. Installed indoors or outdoors, MORN LIFT 4 post car lifts provide you excellent experience in vehicle transportation.
MODEL
LOAD CAPACITY
PLATFORM SIZE
TRAVEL HEIGHT
PIT DEPTH
DIMENSION
LRL3-3
3000kg
2.5*5.5m
3m
200mm
load in 20' container
LRL5-3
5000kg
3*5.8m
3m
200mm
load in 20' container
LRL3-6
3000kg
2.5*5.5m
6m
200mm
load in 20' container
LRL3-9
3000kg
2.5*5.5m
9m
200mm
load in 20' container
LRL5-9
5000kg
3*5.8m
9m
200mm
load in 20' container
LRL3-18
3000kg
2.5*5.5m
18m
200mm
load in 20' container
All 4 post car lifts can be customized with Loading capacity, platform size, travel height, color, etc.
Trigger signal, automatic leveling;
High-strength double-chain transmission, high safety factor;
High-precision hydraulic transmission, stable lifting and low failure rate;
Large displacement pump station, fast lifting speed, low operating sound;
Safe and efficient transfer of vehicles, lower costs to install, operate, and maintain.
Faster parking for added flexibility, when space for access ramps becomes an issue, our 4 post car lift is the optimal solution;
MULTIPLE SAFETY FEATURES PACKED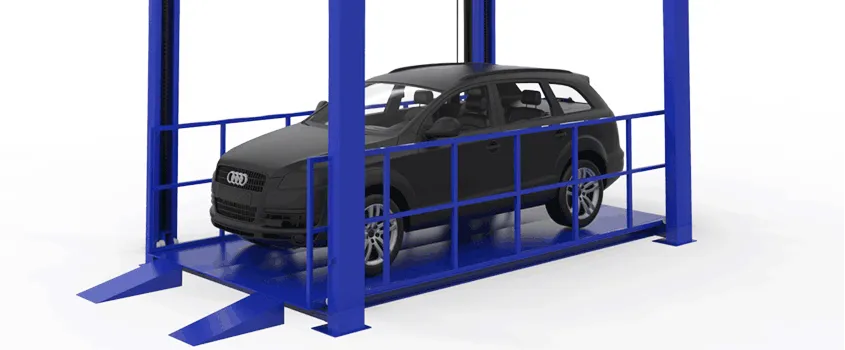 MORNLIFT 4 post car lift adopts multiple safety protection such as anti-falling device, checkered platform, safety wire rope and safety railing. There are also limit switches and buffer device between each floor relieving the buffer force when the lifting platform reaches the designated floor. The emergency stop button and emergency landing button are prepared for various emergencies.
Choosing MORNLIFT's 4-post car lift can protect your interests to the greatest extent. Fully automatic operation inside the car, anti-falling design in case of broken chain, PLC control, stable performance. We provide 5-year warranty for the main structure and 1 year for the parts, lifetime technical support.
HIGH GRADE PARTS ENSURE HIGH QUALITY OF FOUR POST CAR LIFT
We manufacture our FOUR POST CAR LIFT with durability in mind. All parts we use are standard model first-class quality and well-known brands. Each is with item code, which means you can easily find same parts to replace it. Delivery is also fast.