Aluminum alloy lift particularly stands out in very narrow working sites with its compact body structure and beautiful design. Single mast aluminum alloy lift is commonly adopted in hotels, supermarkets, libraries, office buildings, factories and more for maintenance and goods management jobs. If you intend to buy a single mast aluminum lift, you need to know the standard and optional configurations of it before making an choice.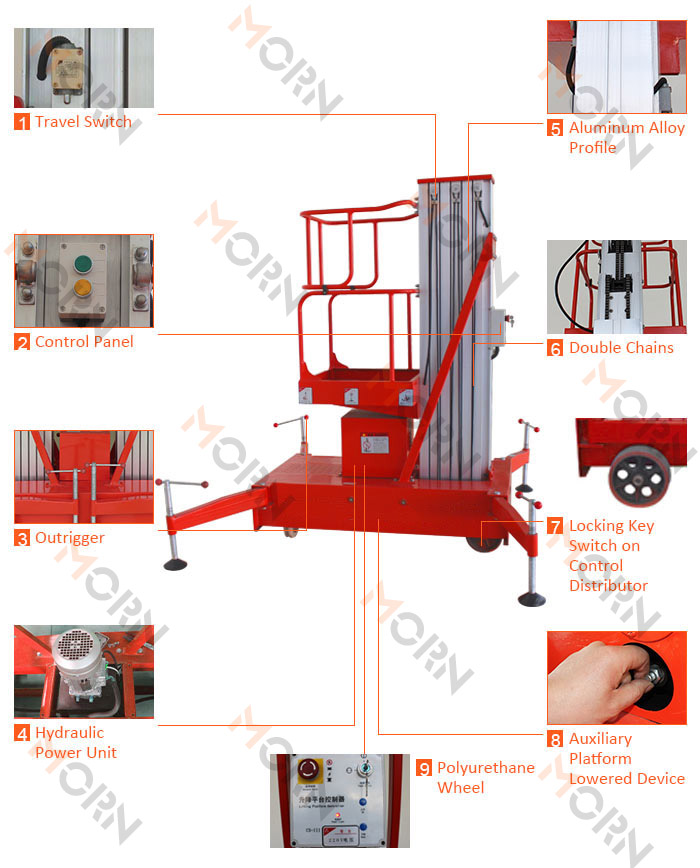 1.Standard Configurations:
1)Dual Controller Operation
One man aluminum lift has two controllers: the control panel on the platform and the control box for ground operation. With the platform controller, the worker can control the lifting and lowering process on his own, convenient and simple. And control box is the main controller of the whole aluminum alloy lift.
2)Emergency Lowering System
User-friendly design of vertical aluminum lift attaches great importance on the operation safety and worker's safety. This emergency lowering system is achieved by the emergency button on the control box and can be used when there is a power failure or machine breakdown during the work process.
3)Emergency Drop Valve
This valve lies in the bottom of the vertical mast aluminum lift, and can be used in case of emergencies or dangers.
4)Overload Protection
Overload protection is designed to prevent overloading which will affect the working performance of the aluminum alloy lift and cause injuries. The standard load capacity of single mast aluminum lift is 100kg.
5)Locking Key Switch
This device is located in control box to control the whole operation system of the aluminum lift.
2.Optional Configurations:
1)Overload Sensor with Alarm
Once the platform capacity exceeds 100kg, the overload sensor will alarm to warn the workers not to load extra weight.
2)Optional Chassis with Level Gauge
This device can help the aluminum alloy lift keep balance during work process to protect the platform from shaking or inclining.
3)Beacon/Indicator
The beacon or indicator can show the working state of aluminum lift for reference.
4)DC Power Supply and AC Power to Platform
DC power can be chosen to move the aluminum lift. The platform can be powered by both DC power and AC power, and if there is no available power supply in the working site, AC power to platform can be chosen.