Any splendid and magnificent hotel cannot live without a self-propelled scissor lift platform.
Then what is a self-propelled scissor lift? Why it is a must for hotels?
As its name implies, self-propelled scissor lift platform is a member of scissor lift family with auxiliary walking ability powered by battery power or manual power. It has 90° turn radius and no outriggers are needed to support the platform, leading to its compact structure for going through narrow doorways and working on small sites. Its lifting power can also be chosen between AC power and battery power. These explain its self-propelled feature in work. And like common hydraulic scissor lift platforms, its platform size, loading capacity and lifting height can all be customized as per customer's work demands. The self-propelled scissor lift is widely used for aerial maintenance and construction jobs in which workers are elevated safely to the aerial work place standing on the platform.
While hotel maintenance and management rightly fall into this application. The first thing customers do when they walk into a hotel is to look around and check whether the hotel environment or facilities are pleasant and comfortable enough to give them good feelings. Provided that the ceilings are broken, the lights in corridors are not working, or the french windows of hotel hall are dirty, will the customer still live in such hotel? No, unless there is no other choices!
So regular maintenance on ceilings, walls, windows, electric circuits and ceiling lamps are of great importance for hotels to provide enjoyable environment for customers. And hydraulic self-propelled scissor lift is an essential tool to fulfill these jobs. Hotel managers will not regret for investment on such a helpful equipment due to the following benefits: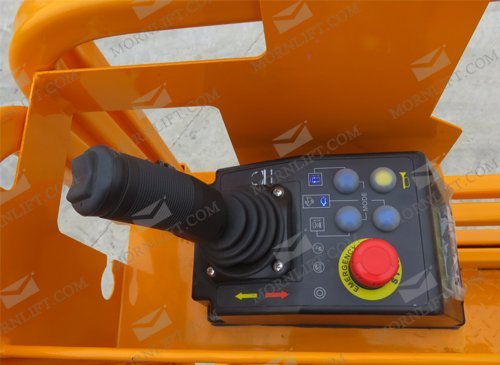 Work efficiency: only one worker is enough to operate and use it by platform control panel, and the working site and lifting height can both be adjusted flexibly.
Safety: the strong scissor structure of our self-moving scissor liftis made from high grade steels to support the platform stably; and Emergency Stop Valve can lower the platform when emergency happens or power faults; also safety devices such as guardrails, anti-skid platform surface, interlock device and so on are reliable guarantee of worker's safety.
Easy maintenance: except for replacements of quick-wear parts, the machine can be maintained easily by referring to maintenance manual/video.
Convenient storage: the machine's compact structure after being fully retracted only takes up a small space to store it.
There are more advantages and benefits about our self-propelled scissor lift platform and please visit our website or directly contact us for more information!