Loading dock ramps, as well as yard ramps, bridge the gap between different work heights to help stabilize forklifts and keep your employees safe. With a loading dock ramp or a yard ramp, you'll enjoy a more productive, more efficient and safer work environment in all goods handling jobs.
Many companies lack a loading dock ramp for offloading goods from the back of a truck into the dock or warehouse. Finding a solution that solves this particular problem has become a common issue when we hear from customers needing this product. Portable yard ramps are the solution designed to solve the problem of not having a loading dock.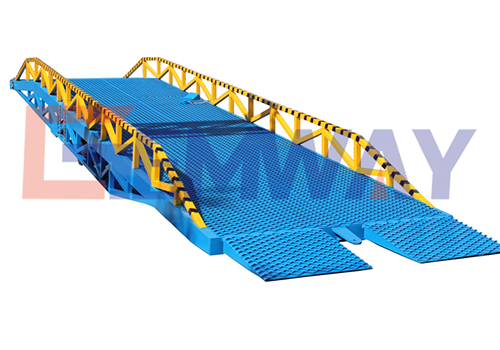 Yard Ramps are an Efficiency Tool
There are many businesses that require the movement of cargoes from a truck to the warehouse via the loading dock. Although a forklift alone could be used to move the freight, this can be a really dangerous, slow, and tedious operation. Yard ramps are an efficiency tool that makes your business move at a faster pace.
Container ramps speed things up and provide safety measures to boost productivity! Container ramps are made to be used with forklifts and can be moved around with them. This is why they are also called forklift ramps. Safety chains are attached to the rear of the truck. Forklifts are used to unload the cargoes from the elevated back of the truck to a loading dock at ground level.
Custom Loading Dock Solutions
Have a unique loading dock need? Even if your warehouse design is unique, our engineering team can help with a custom solution. There's no challenge too difficult, and no specification or circumstance too unique – we can develop the perfect solution, tailor made for your real-world application in three easy steps.
Initial Inquiry – When we get your initial inquiry, we'll gather the details for your specific application, including any necessary measurements, such as loading capacity, dock height, weight of your equipment, width requirements and any restrictions.
Engineering Department – Our team of talented engineers reviews your specifications and a meeting with the production manager provides you with the time it will take to design and manufacture your custom forklift ramp solution.
Final Design and Pricing – Next, we confirm the final dock ramp design with you and calculate the manufacturing cost. A design is drawn for approval, and cost determined. We send the quote to you for review. The quote may fluctuate according to your optional parts and range of services, like longer warranty and extra parts.
Deal and Order – when final design/specifications and quote are confirmed by your side, we will send proforma invoice/order contract to you to make the deal. Then manufacturing will be started and delivery will be arranged in time.
Have a unique material handling or dock ramp need? MORN LIFT is here to help with your custom design solution. To learn more about yard ramps and find out if they fit your application, please visit our yard ramp page or leave your comment below.