MORN Self-propelled TELESCOPIC BOOM LIFT DEATAILED INTRODUCTION
Standard configuration
4-wheel drive
2/4-wheel steering
High/low travel speed
Weighing system
Automatic Deceleration Device
Working range of full amplitude
Full proportional Control
Protection system on Uneven Ground
Automatic Leveling
Emergency Descend system
Anti-collision protection of platform
Working table selection
Engine restart protection
Preheating of engine
Grade three Throttle control of engine
Dust-proof protection
Strobe light
Horn(alarms)
Optional devices
Platform rotation
Generator sets(Hybrid power)
Perkins engine
Gas supply in platform
Power supply in platform
Working light in platform
SELF-PROPELLED TELESCOPIC BOOM LIFT (DIESEL power)
1.Functions of positioning upward & outward and crossing. The articulating boom machine offers muti-faceted functions of positioning upward, outward and crossing, so that you can reach whatever place you want to go through various ways.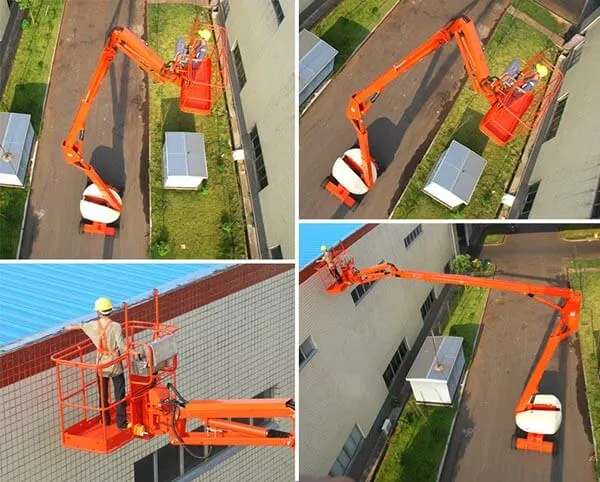 2.Complete safety devices
Standard configuration include four-link weighing devices, overload protection, automated detection device for detecting platform amplitude and height (automatic amplitude limiter), automatic control of the movement speed of the boom and traveling speed, and high-precision load sensor, to ensure the safety and stability of operation in all directions.
3.Compact structure
The structures with size lower than 16m and electric motor type are compact, which make the boom can go through small opening and operate in small space.
4.Control box
Full proportion joysticks and CAN bus as well as PLC control system. With high positioning accuracy are easy to be controlled and can be operated by the users at will. The stainless steel control box with sealing cover and box cap, which can help prevent the electrical components for moisture and prevent the damage from welding slag.
5.Traveling system
The closed circuit hydraulic traveling system consisting of electro-proportional variable pump, hydraulic control variable motor and flow. Distribution value can gain relatively high drive speed and relatively
 6.Power and Gas supply in platform
As per the requirements of users, the platform can be equipped with AC380V power and compressed air pipe, to meet the users' special Requirements.
7.Hydraulic system
Closed circuit hydraulic travelling system has speed easily to be adjusted, wide speed range; the boom's hydraulic system adopts double value core circuit. which enhance the safety. The hydraulic components adopt European and North American pure brands.
8.Driving mode 4*2/4*4(optional)
The four-wheel drive is powerful with great grade-ability.
9.Swing-out engine tray
It is easy for maintenance and repair.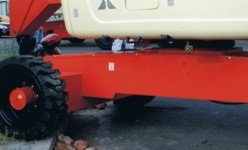 10.Active oscillation axle
Active oscillation axle can perceive the terrain, and can guarantee that the machine can land on four wheels even on uneven road without reducing the driving force.
11.Emergency descend system
It guarantees that the boom can retract and descend in case of failure of engine and oil pump.
12.Hydro-cylinder protection and dust proof boom.
All Hydro-cylinder rods have protective covers, and the boom head has dust-proof devices.
13.Rotary platform
The rotary actuator with standard configuration can make the rotation range of the platform reach ±80°,which makes your work more flexible.
14.Strobe light
Give alerting signal when working .
15.Adjustable backlash
The output gear of the slewing gear reducer is 2.5mm from the axis, can adjust the gear side clearance and reduce the free rotation angle of the boom.
16.JIB with large range of activities
The jib angle ranges from-55°~+75°,so you can reach the place you want to go without operating the main boom.
17.ENVIRONMENTALLY FRIENDLY
The electric articulating boom use storage battery as the power source, so it is low noise and no emission, so it can be used indoor and other environments with special requirements.
18.Small structure size
The electric articulating boom has smaller width and height(stowed), which is more suitable for indoor work.
19.Manually-operated Emergency descend device
The manually-operated pump in the system can be used to descend emergent.
20.Hybrid power(optional)
The options of generator sets are available. and the generators can be used to charge the storage battery. They are suitable for outdoor operation in the places where recharging of the battery is not available.
21.Components of European&American brand
The key components such as battery, traveling electric motor, controller and the gear reducer shall adopt pure European&American brand.
22.Anti-collision switch
It is used to prevent the working sidebar from further moving in case of collision with obstacles upward.
If you have any interested, please feel free Click below website to get me details