Scissor lift tables are the most commonly used industrial lifting platforms for transportation of goods or cars between floors, up and down in workshops, warehouses, three-dimensional garages, and underground garages, etc.
Since the goods to be loaded can be big in size, and heavy in weight. The safe operation of the scissor lift table is of pretty importance. Today we're going to talk about some tips on how to safely operate a scissor lift table.
Let's dive into the details.
Pre-use Inspection
1. Hydraulic oil and battery fluid inspection
First, check whether the hydraulic oil is leaking or the oil level is appropriate, refuel if necessary. Also check whether the battery fluid is leaking and the liquid level is appropriate, add distilled water as needed. Meanwhile, ensure that all labels are clear, legible, and properly positioned.
2. Components inspection
Second, check and ensure the components of the scissor lift tables are not damaged, improperly installed or missing, including the electrical components, wiring, cables, hydraulic hoses, joints, hydraulic cylinders, hydraulic valve blocks, battery packs, drive motors, wear-resistant sliders, gaskets, tires, wheels, ground wire, limit switch, nut, bolt, platform overload component, platform entry, indicator light, safety arm, extension platform, scissor arm pin, fastener, platform control handle, brake parts, etc.
3. Cracks and tightened inspection
Finally, find whether the entire scissor lift table has cracks in welds or structural parts, dents or damages; ensure that all structural parts and other key parts are complete, and all related fasteners and pins are in the correct position and tightened; make sure that the chassis battery tray and oil pump tray are closed and locked, and the battery is connected properly.
Safe Operation
1.Select a sold and flat ground
When operating a scissor lifting platform equipped with a four-wheel chassis, be sure to run it on solid and flat ground. Because only four chassis tires are firmly fixed on a horizontal plane can avoid the rollover or tilting of the lift platform
2.Figure out the weight of the cargo to be load
When operating a hydraulic scissor lift, the operator must figure out the weight of the cargo to be loaded. For cargoes that do not indicate an accurate weight, make an estimate of it. If the weight exceeds the maximum load of the lifting platform, stop using it, otherwise, it may cause damage to the scissor lifting platform or impose risks to the operator.
3. Place the loads in the center of the lifting table
When transporting goods with hydraulic scissor lifts, the heavy loads to be transported must be evenly placed on the center of the platform. Do not place the heavy objects on one side of the lifting table, to avoid falling.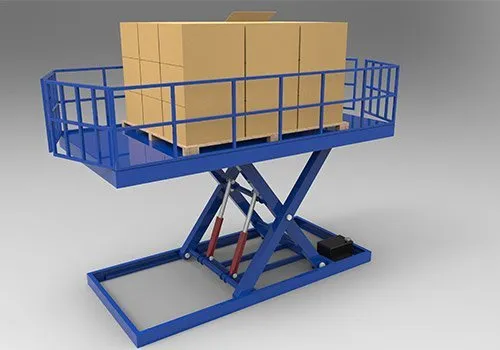 Troubleshooting
1. Power outage
In the event of a power outage, don't be panic and stay calm. There are corresponding emergency measures or buttons. The scissor lift table will not hover and cannot move, on the contrary, it will slowly be lowered to the bottom relying on its self-weight. You can also use a tool to hold the support spool and press the spool firmly in. Then the lift table will be lowered. If other abnormalities are found, press the emergency stop button. This button is set specially for an emergency stop, which is very safe and stable.
2. Abnormal noise or speed
During the use of the hydraulic scissor lift, if abnormal noise or short-term abnormal speed occurs. Generally, it is due to the lack of oil or looseness in the lifting table. Repair as soon as possible. If there is a temporary abnormal speed, something may be wrong with the hydraulic system, check the hydraulic oil or filter or hydraulic valve.
Conclusion
Safety is always of top priority in all lifting applications. We can never be too careful while using those lifting tables.
Make sure to do a pre-use inspection and operate strictly according to your users' manual. Using those safety tips while operating those scissor lifting tables to ensure a smooth, stable and efficient lifting experience.
Hydraulic Scissor Lift Table Service
MORNLIFT has a wide range of industrial lifting tables and other lifting solutions to meet every possible application.  We can also customize lifting solutions according to your unique working environments and tasks. Contact us now with your specific requirements. Our 3D animation drawing will give you a vivid