Logistics and transportation are now a booming branch of modern industry, developing with powerful impetus and inestimable potential. Being accompanied by this momentum, machinery that is used for loading and unloading goods is in a strong demand to various factories and wharves. Mobile dock ramp is just one of the most common characters in centers of goods and trades in view of its beneficial role and convenient application.
Briefly describing, mobile dock ramp acts as the bridge between forklifts and trucks or semitrailers with containers, by which the goods can be loaded or unloaded effortlessly. This post intends to give an elaborate explanation on why a mobile dock ramp can take a leading role among goods, forklifts and containers, and how it works in real tasks.

1.Anti-slip platform is a basic.
Working as the bridge or link between forklift on the ground and higher containers, the mobile dock ramp is designed with around 13° gradients and general 12m long so that the top end of the ramp can parallel with the bottom edge of container. Here the major characteristic of platform is that an anti-slip technique is adopted on the platform plane, increasing the friction and avoiding slip.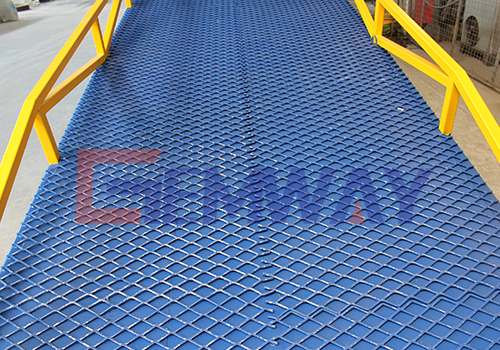 2.Solid tires are used.
In addition to moving forward, the tires installed in the dock ramp are also used to holding the weight of forklifts and goods. Therefore solid tires are the best option for the ramp to achieve longer durability. Compare with general gas tires, solid tires are stronger and tougher when supporting the whole weight of forklift and goods. Besides, solid tires needn't to be inflated or replaced frequently, which can save much labor force and maintenance cost.
3.Manual hydraulic cylinder offers sustained motivation.
Loading dock ramp usually works in the places where no handy or available power supply exists, which encourages manual hydraulic cylinders to be utilized. In this way, it is the manpower that can lift the ramp at any time and any place, rather than being limited by the power supply. It won't take too much time to lift the ramp up, and you will be paid off from those few minutes.
4.Adjustable iron chains joint the ramp and container steadily.
The top end of mobile  loading ramp and the bottom edge of container are tied with a iron chain whose length and tightness can be adjusted as per different types of work. This guarantees the ramp and containers won't separate from each other during loading and unloading process.
5.Brake pads keep the tires stable.
When the forklifts are loading or unloading goods through a mobile dock ramp, the solid tires of the goods loading ramp is likely to move around and bring safety hazards. Brake pads thus can be put before and after the tires to prevent the tires from moving.
Except from the above devices and functions, there are some additional safety measures, such as the leading board, guardrail, and supporting legs, to protect the safe operation all the way. So a mobile dock ramp can provide you convenience with great safety.