Scissor lifts play an increasing significant part in modern production activities. They are mainly applied to raise workers to high places to deal with aerial jobs. But have you ever think about whether the guard rails on scissor lifts can be really helpful and even life-saving during emergencies?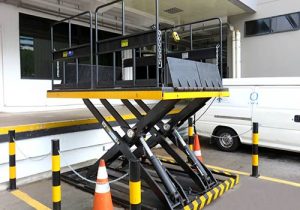 It's deemed that the guard rails on the platform can be a sufficient fall protection measure. Yet in actual practice, things may not be that optimistic. As we all know, the guard rails on the platform are usually fixed since the scissor lift was made in the factory, which doesn't conform to the changeable and unpredictable risks existing in different work situations. Briefly speaking, the guard rails are fixed but the potential risks are unforeseen. So how can we say the guard rails are able to protect workers certainly in this perspective?
Therefore corrective safety measures should be reconsidered prudently. But can scissor lifts be replaced by ladders in aerial jobs? Of course not. Scissor lifts do provide relatively stable and highly maneuverable platform for workers to stand on. Risks and emergencies will be avoided effectively if operators and worker are well trained regarding safe operations. However sometimes the workers need to lean out of the platform to implement complicated tasks, in which case, only guard rails are far from sufficient to prevent accidents. And your existing safety measure should be immediately updated and other rescue plans should also be made out in place.
As for formulating a specific fall protection program, 3 suggestions are recommended here. The first one is to carefully read the safe operation information from the manufacturers of your scissor lift. Those dos and don'ts written in the user manual must be followed strictly, otherwise the manufacturers won't pay even a coin for the accidents caused by wrong operation. Secondly, some investigations have to be conducted toward your workplaces before any work. According to the complexity of the workplaces, extra safety measures would be taken to ensure safety. Lastly, you can judge from your work details to decide what preventive equipment should be armed with by the workers, such as lanyards, safety rope, harness and self-retracting lifelines (SRL).
In conclusion, only guard rails are not enough to protect the workers. Safety measures should always be improved as per actual workplaces and work nature when working with scissor lifts.