How to choose a good quality Mobile scissor lift in China?
Now more and more places began to use scissor lifting platform, in the use of lifting platform to get a good use effect, we also need to choose the high quality equipment at the time of the choice, so also be able to add a lot of points for its use.
Mobile scissor lift is now more and more used for a variety of enterprises in the workplace, which the height of the lifting platform lifting platform is also more and more used in hotels, halls and halls.
Here we will discuss how to choose lifting platform and matters needing attention. First of all, we want to use the scope of the enterprise, the degree of work frequency, utilization rate, rated lifting weight and other factors for comprehensive consideration, choose suitable for the unit to use the required level of the lift. Conduct market research according to the proposed technical parameters. The choice of suppliers, the first condition is the need to see the reputation of the manufacturers, and then after-sales service ability. As long as the product quality is good, excellent performance, complete safety device lifting platform, in the case of reasonable price, can be used as the object of choice.
MORN LIFT mobile scissor lift, also called towable scissor lift or scissor man lift, is especially built for man aerial working tasks with exceptional mobility, efficiency and productivity. Charactered with low vioice level, the scissor lift provide excellent capacity, large platform workspace.
This scissor man lift is populor for space restricted applications. Operators easily maneuver around tight indoor and outdoor worksites, and perform cleaning, maintenance, installation, construction tasks and so on.
With either AC, DC or dual power drive system, those scissor man lifts deliver long-lasting performance for a more productive day. DC or dual power drive system offers productive power for getting around indoor jobsites with quiet, zero-emissions operation.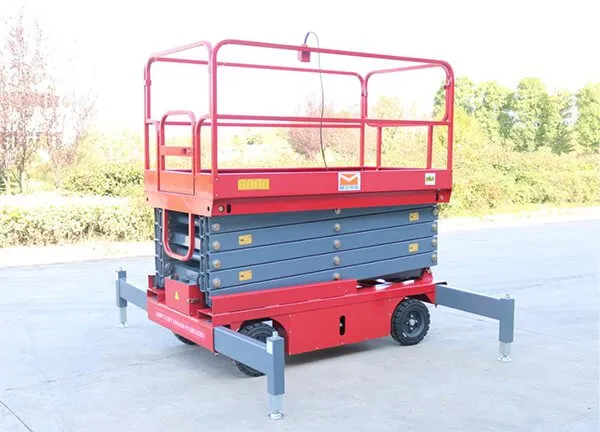 A good scissor lift directly affects the work schedule and du safety of personnel and goods. Therefore, it is particularly important to select a good quality lift zhi machine. MORN Mobile Scissor machine experts tell you to choose a good quality lift should pay attention to the following points:
1.Safety performance: The safety performance of the lifting platform is mainly reflected in the transportation process of goods. The product must guarantee the safety of cargo transportation and the safety of operators.
2, failure rate: good quality products, the failure rate must be very low, just imagine if a product, often failure, operators will be very annoying, so do not let people worry about the product must not be a good product.
3, after-sales service: any kind of mechanical products, it is impossible not to have 100% failure, problems in the process of use is very normal, there are problems that need to be sold later to solve, so a good product must have a perfect after-sales service system, so that the majority of users to buy at ease.
Mobile scissor lift has a wide popularity in aerial jobs in which workers are elevated up and down to implement maintenance, construction or goods placement tasks. As a mechanical assistant, it has to be safe and stable enough to guarantee the safety of users.
MORN LIFT is committed to each user's security and benefits via strict quality control and professional service. High strength scissor structures cooperate with efficient hydraulic system to form the stable basics of MORN LIFT scissor lift products. Here 3 types of mobile scissor lifts are introduced to help you understand our manufacturing mission and safety concept.
For further information about mobile scissor lift operation or application from MORN LIFT, please leave a message on our website or directly contact us now. Professional customized lifting solution is waiting for your choice.