Take you to learn more about our wheelchair lift
Name:
wheelchair lift                  wheelchair lift platform
Home wheelchair lift              outdoor wheelchair lift
Wheelchair elevator lift           wheelchair vertical platform lift
Hydraulic wheelchair lifts          home hydraulic lift elevator
Vertical platform wheelchair lift     home lift elevator
Hydraulic vertical platform lift
一. Technical specifications:
1. Platform size:
①Overall platform size   1430*1000mm(standard)
②Platform inner size     1300*900mm(standard)
What information do you need to tell us before you get the quotation?
1. Lifting height:
Maximum height : 12m (1.1  3.1  6.9….)
The total height of the machine is 1.1 meters higher than the lifting height.
2. Loading capacity:
250kg (standard)
(More than 250kg customizable.)
3. Entrance and exit direction:
① One side open
② 180°
③ 90°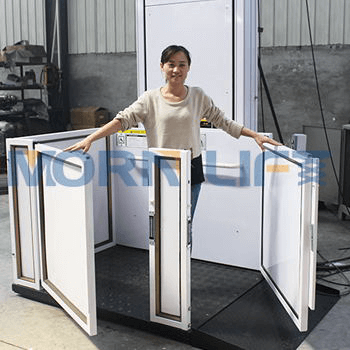 5. ramp
①fixed ramp
②automatic ramp
5. Voltage :
220V single phase  50HZ
380V three phase  50HZ
6.control system
Three calling and control type (platform control, remote control, post control)
You can control the wheelchair lift at any place.
7. Key switch
① Left  master control:platform control,post control
②Right  auxiliary control:remote control
③middle  off
二.Safety measures
1.  Safety sensor on the platform bottom
The lift will be stopped at once if it touches any obstacles when going down, especially to protect the children if he enter accidentally.
2. Electromagnetic lock of the platform door
Interlocking:
The lift won't work if the door is open, it can only rise when the door is completely closed.
Electromagnetic lock:
The door won't be opened during the rising process.
3. Mechanical platform lock
It is a double safe design to protect people on platform
4. Switch key
First you can lock the lift if you do not use it, in case of any mis-operation by the children or strangers.
5. Emergency stop on platform
The lift can be stopped immediately in case of any emergency when up or down.
All three controllers have an emergency stop.
6. Emergency down button
The platform can be lowered by manual down button in case of power failure
7. Automatic ramp with protection function.
It can turn up to max 75°when lifting and prevent the wheelchair from going out.
And also used for ramp where the wheelchair goes in and out.
8. Landing door(Optional)
Prevent the elderly and children from falling into well while waiting for the lift.And prevent walker from accidental fall.
9. Mesa of antiskid
It prevents the old man or child from slipping and falling.
三. Aluminum alloy structure with powder coating
1.The lift used T6030 aluminum ally, it has good mechanical intensity and corrosion resistance and weather resistance, which ensure the lift 15years structural warranty at least.
2.Hardness > 2h, it is not easy to be scratched
We make it white powder coating, it looks more beautiful, it can match with all kinds of buildings;
四.Installation
1. Easier for installation and transportation
The body can be cut into two sections, there are iron plates in the tracks, just use screws to link the two sections instead of welding.
Firstly it is easier for installation(indoor use),On the other hand, it can be easily put in a wooden box for transportation, can save some cost for you.
2 .Easier for fixation
The iron plate that used to connect the lift and wall can be moved on
the track, so it can be fixed on the wall at any height you want.
3. Lifting hook
The lift can be lifted up by this hook, it can also be taken down if you do not need it.
五.Packaging
Packed in wooden cases
The packing of wooden cases will protect the goods from damage during shipment
六.Optional Product
①Enclosed wheelchair lift
②Home wheelchair lift
If have any interest, please contact us at any time, also could click our website for to get more details. https://www.mornlift.com/wheelchair-lift/