Some good tips for choose Cargo Lift For Sale
Rail-type cargo lift for sale use guide rails to make theliftplatform run smoothly between tracks. It is a specialcargo lift for salefor transporting goods between buildings and warehouses. The lifting height ranges from 1 to 20 meters. The rail-type hydraulic freightliftdoes not need to be installed with a cargo platform or steel frame during installation. It can be directly lifted and unloaded from the ground. Forklifts and manual hydraulic forklifts can easily and smoothly carry out loading and unloading operations. After the operation is completed, the platform is flat and the ground does not occupy the ground. Space does not affect the passage of passages.  The uniquely designed balance system ensures a smooth and continuous downward pressing process. The hydraulic system of the rail-type lifting freightliftis equipped with anti-falling; overload safety protection device, each floor andliftwork surface can be set with operation buttons to achieve multi-point control.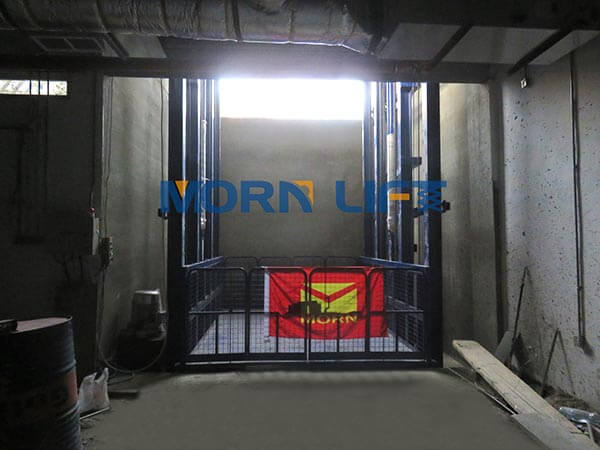 The main structure of the rail-type cargo lift for sale adopts a high-strength rectangular tube, which has high strength, large carrying capacity, stable lifting, simple and convenient installation and maintenance, and is an economical and practical low-floor replacementliftideal cargo transportation equipment. Rail-type hydraulic freight elevator, cargo The hoist is mainly used to transport goods up and down between various working floors; MORN Lift will exhaust the narrow spaces that are difficult to solve, such as three-dimensional garages and underground garages with high-rise buildings above two floors, places where pits cannot be excavated, and occasions where the top height cannot reach the requirements. We will try our best to build a highly efficient delivery platform for you. The hydraulic system of the product is equipped with anti-falling and interactive interlocking of the upper and lower doors. Each floor and the working surface of the lifting platform can be set with operation buttons to achieve multi-point control. The product has a solid structure, large carrying capacity, stable lifting, simple and convenient installation and maintenance. It is an economical and practical low-floorliftto replace the ideal cargo conveying equipment. According to the installation environment and use requirements of the lifting platform, choose different optional configurations to achieve better use effects.
Large load capacity of 15 tons, realizing multi-point control, interactive interlocking of upper and lower floors, to achieve safe use;
High lifting height, adopting side-mounted oil cylinder or double-testing oil cylinder, stable operation, no noise, convenient maintenance and long service life ;
Manual lowering and emergency stop button in case of power failure, convenient, fast and practical;
The floor door can be penetrated, and the inside and outside of the plant can be opened mutually, which is convenient and space-saving;
Especially suitable for 2-6 storey steel structure plants, both internal and external ;
The pumping station adopts imported pumping station. If the speed requirement is too high, use imported customized pumping station to meet the ideal delivery requirements.
Imported parts and components are used for oil cylinders and seals to solve the problem of unstable oil pressure and oil leakage of parts.
Civil engineering advantages:
There is no need for a machine room above the hoistway, and the top floor can be installed with a height of 3.5 meters or more.
The machine room can be located within a 15-meter radius of the hoistway, occupying an area of only 3-4 square meters
Thecargo lift for sale is not equipped with a counterweight device, which improves the utilization rate of the shaft area.
Thecargo lift for sale load and load directly act on the foundation pit through the oil cylinder, and the hoistway has low strength requirements. Brick or brick-concrete structure is enough.