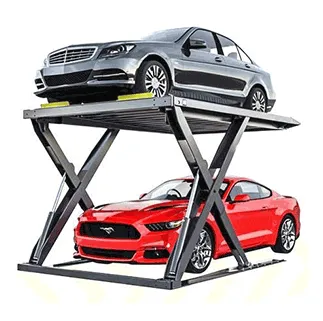 Parking Two Cars in One Spot
Maximizing available space of your garage
MORNLIFT scissor parking lift is a parking and storage system for a modern garage. This fully foldable parking lift doubles the parking of your home garage or parking lot space and safely holds cars and light trucks of all shapes and sizes. It's a must-have lift in both residential and commercial settings. With the strength to handle loads up to 2700kg and the minimal footprint necessary for a garage lift, MORNLIFT scissor parking lift is the perfect garage parking lift for any home, shop owner, dealers and commercial lots. Get rid of wasted space and make your garage what you always imagined it could be. Park two cars, trucks, or even SUVs in a single spot.
SCISSOR PARKING LIFT FOR SALE
Model
Lifting Capacity
Lifting Height
Runway Width
Outer Dimensions
(L*W*H)
Rise/Drop time
Power
DSPL606
2700kgs
2000mm
2126mm
4847*2562*2077mm
60/50s
2.2kw
Two cars fit in the area of an average parking lot space,without cluttering up the garage;
A2,700kg vehicle parking capacity and multiple lock levels to accommodate more vehicles heights and wheelbases l
A gentle wheel trough secures upper-level parked vehicles at all times.
An equalizer ensures the synchronization and level of platform
Platform with wave plate or diamond plate options
The entire upper deck is fully galvanized, electroplatedor powder sprayed, So fluid leaks, weather-related trauma and other daily abuses won't cause it to rust or wear
Mold machining through the whole process so that the parts are universal and interchangeable
Pass 120% capacity dynamic load test and 150% capacity static load test.